Damn finally! I have done quite a few Saiga mods and debanned a few AKs.
However, I never finished a build. Well I guess building from a completed NOdak spud frame is almost a whole build.
It was a tantal kit.
Costs:
tantal kit shipped from gunthings $234
hotbarrel piston $15
Nodak frame $96
FFL transfer $25
g2 $25
baseplate for mag. Already had it
tools ,well way too many hours welding grinding and sweating.
So $400 ish into a rifle.
See I got into the kit collecting and building thing way too late. Well actually I had a few kits before I just was way too busy to build anything. I find that if I know I have to invest a lot of energy into building tools and such I put off the project.
The demil and build went pretty smooth, I kinda crunched the rivets a bit and then one hole on the frame had to be reamed a bit. I do also need to open up the magwell ever so slightly because only half of my mags go in really smoothly. To do the rivets I am using a set of modified bolt cutters which work ok. I would love to get a fancy ak builder rivet tool, however I am giving Curtis too much of my money anyway. The headspace was good and cycles and all. Of course the real test is how it groups on paper.
I think I am going to start into bending my own flats so this will probably be the only build like this. So there goes another $200 plus bones to Curtis at www.akbuilder.com.
headspace was good and cycles and all.
My next build is a Full stock Bulgarian ak-74 build and I will do a detailed step by step for that one and post it here.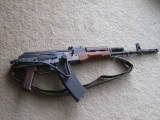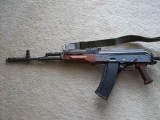 Lastly a pic of it with last week's project, the Saiga 12. I did a very basic pistol grip conversion to this. I got to practice my welding on this. Man my welding foo is weak.
Next project will be heavy in detail. For all 3 of you that read this blog.